Above This is one of AAA Towing from the city
of Melbourne in the eastern state of
Victoria,they offen come over to our depot to
take back the damaged trucks we recover in
the Outback of Australia...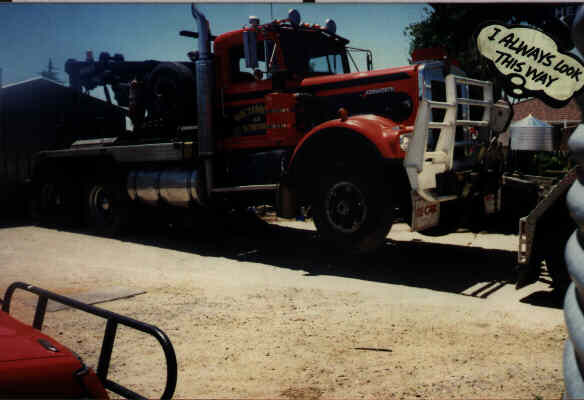 Above: Two photo,s of one of Cleveland
Transport of Regance park in Adelaide South
Australia.
The cab over Kenworth that rolled over
on the highway heading for the city of Perth
in Western Australia, some seven hundred
miles from our depot in Adelaide...
Above: This is a photo of me doing one of our
truck jobs,notice out of the side window how
barron the land is out there you lucky if you
can find a tree...
Above: You people from the U.S.A. will no this
Race car on the back of our tilt tray, it was
brought over for display at one of our F-1
G.P. Here in Adelaide some years ago.
when I went to move it, I thought some one
had taken the steering wheel but it was just on
the other side.
In Australia the steering wheel is on the right
hand side...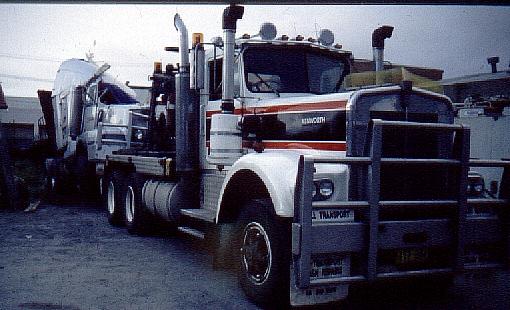 Above: This is a photo of our W-Model
wrecker dropping off a semi wreck in our
back yard of our depot in Adelaide...
Above: Photo of our rebuilt 1978 Australian
made International tow truck, we use it at
speedway city the main dirt track speedway
here in Adelaide...
Above: This is an old photo of the boss lifting a
truck on to a trailer with his old wrecker. He
bought it from an army auction must be more
than twenty years ago...
Above: Photo of us towing one of the patrol
cars for our only Auto club.
The RAA (Royal Auto Associaton of South
Australia) with five hundred thousand
members, that's half the number of people
who live in our state...